After 2013 saw only one lakefront home sell for over 2 million dollars, 2014 has seen five waterfront closings over the 2 million dollar threshold with one of those closings breaking the 3 million mark.
791 Cove Drive, the latest 2M+ lakefront sale just closed on November 5th after 513 days on market. Originally listed at 3.9M and eventually lowering its offer price to 2.59M, this 9 bed, 7 bath, 7236 square foot home finally sold for $2,115,750.
This property is located in an excellent deep water location. With a lot size of almost 37,000 square feet and with a separate pool house, lakeside gazebo and fire pit,and a spacious and tastefully improved outdoor entertainment area, this property truly had the estate feel that many buyers are looking for.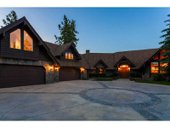 The interior of the house had plenty of room to work with but needed significant upgrading and modernizing. Several buyers to whom I showed this property estimated that their desired improvements to the property if they were to buy it would likely approach the million dollar mark. That being said, after said improvements were done, you might likely make the case that the finished estate would be the nicest on all of Big Bear Lake. I look forward to seeing what the new owners do with this property, if anything, over time. This Big Bear luxury lakefront estate has a lot of potential!
Seeing movement in high-end lakefront sales is encouraging for the overall waterfront home market. As the demand for luxury lakefronts increases, it becomes more economically attractive for smaller lakefronts to make improvements. It also increases lakefront vacant lot values making development more attractive.
It is encouraging to see a significant activity increase in lakefront sales over 2M dollars after an unusually slow 2013 at this price point. With last year's tasteful upgrades and improvements to the Big Bear Village area and with the recent purchase of the local ski resorts from Mammoth Mountain investors, it seems Big Bear is moving towards its potential of becoming a world class destination resort, thus attracting more luxury lakefront buyers.