With 2018 a few weeks behind us now, let's review how last year's Big Bear home sales fared. Here's a look at the numbers followed by a summary of where the Big Bear real estate market has been and where it might be headed.
BIG BEAR HOME SALES
First, let's start with the number of Big Bear homes that sold. Below is a yearly comparison of the number of Big Bear homes sold and a figure showing the percentage change in Big Bear home sales from the previous year.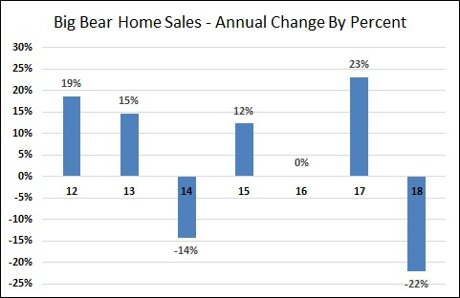 You'll see from the figures above that Big Bear home sales dropped 22% in 2018, but that's in comparison to an exceptional 2017. From a longer term perspective, 2018 sales were almost on par with 2015 and 2016 sales, representing what we would expect in a more normal market.
BIG BEAR HOME PRICES
Take a look at the history of average and median sales prices followed by the annual percentage of change in prices from the previous year.
Although sales adjusted back to a more normal level, the average and median sales prices of Big Bear homes continued to rise. We saw the average and median sales prices increase 3% and 8% respectively in 2018.
This trend can be seen in the price per square foot measures too.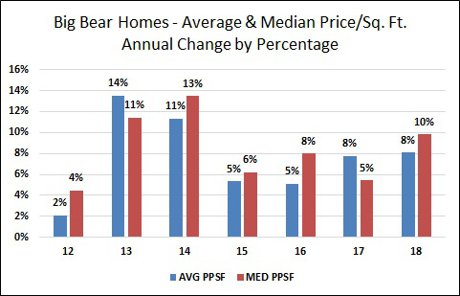 2018 saw an 8% and 10% rise in the average and median sales prices respectively. So prices continued to rise last year in light of slowing sales.
DAYS ON MARKET
Next, let's look at how quickly Big Bear homes sold in 2018.
The figure above shows that homes sold quicker in 2018 than at any time in the last 5 years, posting the lowest median and average days on market since 2013. In a period of slowing sales, homes spending less time on market suggest more aggressive pricing on behalf of sellers.
HOME INVENTORY
The average numbers of homes for sale rose slightly last year, but were still historically quite low.
This slight rise in the average number of listing is likely due to the slow down in home sales. But as previously mentioned, inventory in 2018 remained close to a 10 year low.
MORTGAGE RATES
Interest rates rose through most of 2018, but had a welcomed drop towards year's end.
You can see that rates bottomed out in 2016 at about 3.5% and then peaked in November close to 5%. Rates have settled back down since to the 4.5% range.
IN SUMMARY
Putting it all together, 2018 saw a drop in the number of Big Bear home sales but all other real estate measures were in positive territory.
The slow down in sales can be attributed to many different factors. After 7 years of price gains, affordability is starting to challenge some buyers. New tax laws limit mortgage and property tax deductions making home ownership somewhat less advantageous from a tax perspective. Mortgage rates have risen from 3.5% to 4.5%, which represents about 12% increase in payments on an average priced Big Bear home.
Although all these factors were likely the reason for slower sales, some industry pundits feel that after the initial negative effects of the increased interest rates and tax implications, these factors will become "the new normal" and have less impact on sales moving forward. (Conversely and anecdotally, I have had a few clients claim they were buying now before interest rates go higher. So in some instances, rising rates are encouraging sales!)
If there's one thing I've learned over decades of working, owning, and investing in real estate, it is that no one can predict with any certainty what the market will do. However, based on the overall strong market numbers from 2018, with a healthy level of buyer demand and relatively low supply of homes for sale, and with rising interest rates seeming to have slowed and remain at historically low levels, I am optimistic that 2019 will be another bullish year for Big Bear real estate.