Although we've had a relatively mild winter, and although the first three months of the year are traditionally the slowest months for home sales, we have seen several Big Bear lakefront homes sell in the first quarter of 2015.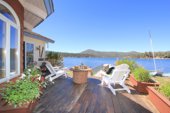 39274 Waterview Drive was the first lakefront property to sell this year. We listed this 2848 square foot, 3 bed, 2 bath home with a two car garage and private boat dock for 1.29M and it sold on February 20th for $1,255,000 closing at $441 per square foot. Located in the quiet and desirable community of Waterview Shores, this deep water lakefront home had the rustic charm most buyers look for in a Big Bear lakeside retreat.
Next to sell was 39537 Lake Drive. This recently remodeled 3 bed, 3.5 bath, 2480 square foot lakefront home has a one car garage, private boat dock and is also in a deeper water location on Big Bear Lake. Listing at 1.35M and selling at $1,295,000, this home sold at an impressive $522 per square foot. This waterfront home closed on March 13th after having spent almost 6 months on market before selling.
Shortly thereafter, 212 Avon Court, an almost tear-down 1 bed, 1 bath, 1074 square foot 1963 A-Frame lakefront cabin located on Mallard Lagoon listed at $595,000 and sold for $520,000 on March 19th after 114 days on market at $484 per square foot . Located towards the mouth of the lagoon's finger on an 11,000 square foot parcel, this property was likely valued mostly for the value of the lot itself along with the value of the existing utilities.  
Lastly, the most recent Big Bear lakefront real estate sale was 40578 Simonds Drive. This 4 bed, 3 bath, 2400 square foot property is multi-residential and is actually divided into a 3 bed, 2 bath main house and a separate 1 bed, 1 bath apartment above the detached two car garage. Located right next to The Village of Big Bear Lake and right in front of Big Bear Marina, this property is in a busier, but central location. Listing at 1.275M, this waterfront property sold for 1.2M after a short 31 days on market.
With Big Bear lakefront real estate off to a great start, I would expect things only to get better as summer approaches. With warmer than unusual weather, we might even see waterfront interest gain momentum earlier than the typical July and August rush. The main obstacle to lakefront sales isn't a hesitance to buy so much as a lack of lakefront home inventory. With only 15 Big Bear lakefront homes for sale currently, there aren't a lot of options to choose from. Regardless, this low supply and high demand is likely to keep Big Bear lakefront real estate prices rising through at least the foreseeable future.